Welcome, everybody, to the new, improved, third revision of Misty's World! I've upgraded the site from the 90s to something, well, slightly more modern. Now it uses way more CSS than it ever did, and finally, after two years of existance, I've finally figured out how to create a side navigation bar!
Not everything looks perfect yet, but hopefully things will improve over time! This new version of the site is such a great way to celebrate Misty's World's second anniversary. Unlike the second version of the site, there is no full archive of the older editions. Don't worry though, the old site is safely stored on my external hard drive, and you can always use the Wayback Machine to see what this site used to look like.
That's enough writing for today. Go and explore this site!
Please note: Some of the more text heavy pages from the old site didn't translate very well to the new version, so on some of them there is no sidebar.
Also note: There aren't as many pages on the new site as there were on the old site yet, but I will add more later.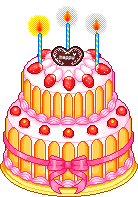 I didn't know what image to put here, so I put a cake because July the 9th, 2019 is Misty's World's second birthday!
Technically the site turned two years old in January, but I moved it to Neocities in July so I made that the official birthday.